[wgl_double_headings align="center" title_tag="h1″ title_color="#252525″ subtitle_color="#ff7d00″ title="Google Webmaster Tool Aka Search Console Updates May 2020″]
What's New In Search Console Updates May 2020
We checked webmaster tool aka search console for, May 2020 there is a new update on Core Web Vital by Google in search console enhancement section. And also it notifies "Task validation is temporarily disabled due to upcoming changes in the report". They added "Try PageSpeed Insights" which will takes you to the Google speed insight report of your website It seems like they will cover some more details with it.
Update Release: Core Web Vitals
Last Update: 27th May 2020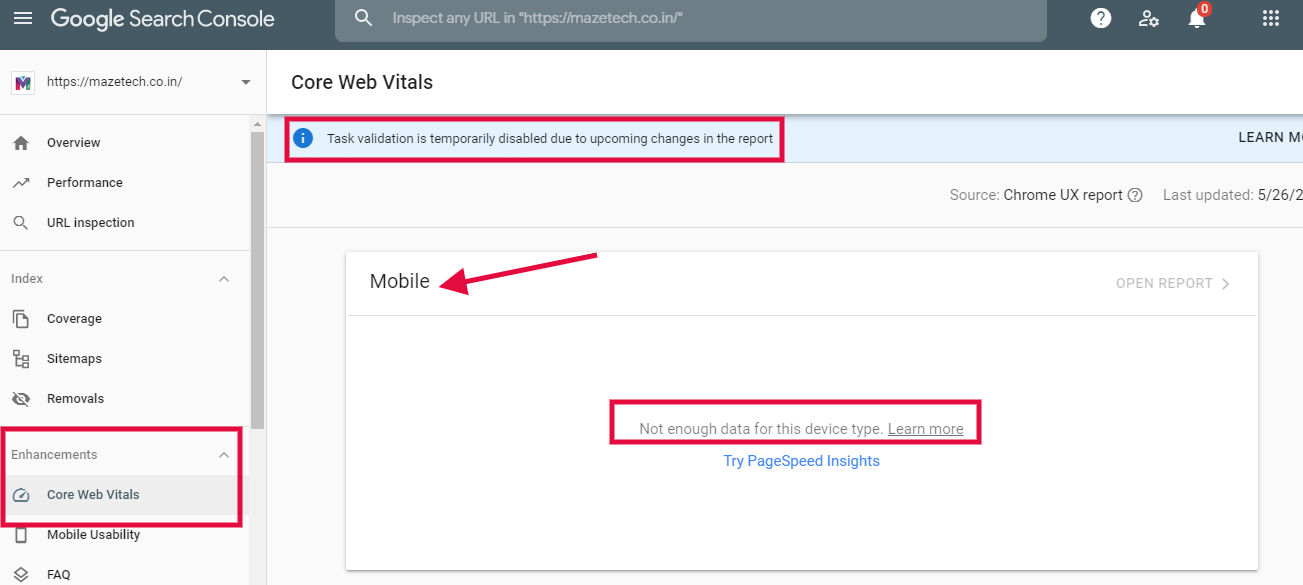 Whats's The Issue In Search Console Updates May 2020
16th May 2020: Some urls are crawled by search console. It might be a 90% technical issue from Google, nor website issue. But we at Maze tech tested our site with google webmaster search console and it crawls some urls and not some urls. And it shows different crawled date of our page.
27th May 2020 : Google updated the search console with Core Web Vitals option in the enhancement section. This update is useful to check both the mobile and desktop speeds within webmaster instead of using google speed insights too. However, you can use both the Google insights and Core web vitals for speed data of your website.
How to check Google webmaster crawled date of all pages?
If you have many pages and don't know how to check the crawl data of all pages.
Follow the steps to check the crawled data of all pages.
Step 1: Select the website property in Webmaster tools
Step 2: Go to index and click coverage
Step 3: Check valid uncheck other 3
Step 4: Click valid submitted and indexed
Step 5: You can see the URL and last crawled date
Step 2: Click Index and Select Valid
Step 3: Click Submitted and Indexed
Step 4: Ta daa!! You can check the crawled page