What is Social Media Marketing?
Social Media Marketing is a unique way to take your service to the customers and improve the value of what you are marketing. Social Media has become the easiest method to reach the target audience to grow your business easily.
Today, everything is the internet and everybody is on social media. So marketing in social media is the best tactic to reach your target audience. Every industry is now stepping into marketing to showcase their product/service to the customers. Just having pages or profiles in social media doesn't show any impact on your business. This is when you need the help of the marketing team.  A good marketing team should know the website performance, application, PR, media and online advertising.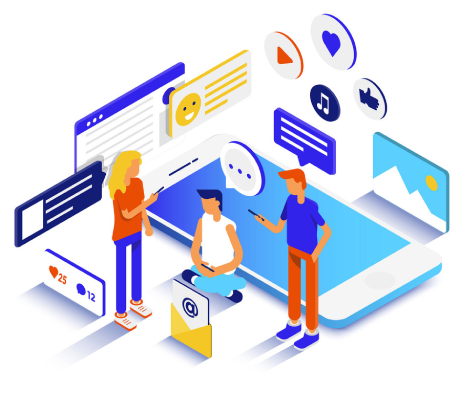 In our company, we focus mainly on social media marketing to help the customers business grow globally through twitter, facebook, Instagram, snap chat, WhatsApp, and other platforms. We improve brand awareness among people and promote them through generic strategies'. We understand how your website is performing and provide a path to contribute two-way conversations between you and your customers through social media promotions.
Affordable Social Media Marketing service
Engage the audience, improve the brand value and build relevant customers through our social media service.
Our service focus on:
1. Building content to attract the audience
2.Improve customer interaction
3.Result oriented and business development strategies
Wide Spectrum of Our Social Media Marketing Services
We focus on the following platform to build your business and to provide a powerful brand name in social media. We also focus on other platforms depending on the business and target audience.
1.  Facebook Marketing
In Facebook marketing, we create a page, post valuable information, increase followers, improve brand value and increase business profit.
2. Twitter Marketing:
Twitter is a powerful social media platform where communication happens through "tweets". We post valuable information related to your business to keep your page interactive and informative. It increases value and followers to your profile.
3. Instagram Marketing
On Instagram, we share images and short videos. With an aggressive and attractive service, you can build and boost your business.
4. YouTube Marketing
Youtube is an important platform in SEO. We create a personalized video related to your business and post it on Youtube. The number of views to the videos indicates a successful path to promotion.
5. Linkedin Marketing
Any company that is promoting the business through online marketing must have a valuable LinkedIn profile. We not only help to promote your brand but also we help to increase the leads through LinkedIn.
6. Pinterest Marketing
Pinterest is an image sharing platform. We promote your business and boost your sales quickly by sharing valuable information through image sharing.
[wgl_button button_text="Get Free Consultation" size="l" align="center" link="url:https%3A%2F%2Fmazetech.co.in%2Fcontact-us%2F|title:Contact%20Us||"]