If you want to survive in the market, then think of something different than your competitors to maintain a higher ranking. Some of you will use the shortcuts, and some of you will genuinely work hard and will make every possible decision to achieve higher rankings in the search engines.
While talking about "working genuinely", SEO is the one that is a beneficial and trusted way to reach there. But what exactly is SEO? What does it mean? Which methods/strategies are beneficial for it? Don't worry; if you want answers to all these questions, read the following beginners guide for SEO, so that you will have no doubts.
So, let's get started from the beginning….
What is SEO?
Everyone knows SEO stands for Search Engine Optimization that is nothing but ranking high on search engines in the organic search results that an unpaid section of search results.
SEO is a set of processes that focus on optimizing a website for search engines. To determine which pages to be included and the order of displaying pages in the search results, every search engine has a complex algorithm. SEO is another way to speak with search engines in a language they understand, and to give website information.
SEO is not only important for getting a huge number of users from organic search but also to improve the user-friendliness and trustworthiness of your website to increase credibility. The higher ranking will give more exposure as well as relevant users to your website. For that, first, you have to optimize your website's structure properly.
When we say search engine optimization, here what is the meaning of optimization? What search engine optimizes? Is it optimizes the corresponding website, content, structure, metadata, or something else? Yes, the search engine optimizes all these things, as well as other things that we don't know, and all this happens in splits of seconds or microseconds.
So what makes all this possible? For that, you need to understand how the search engine works, what are the factors that matter in this subject.
Also Read: How to Choose Digital Marketing Course in Chennai?
First Understand, How Search Engines Works?
The purpose of a search engine is to provide a relevant set of high-quality search results that satisfy user's queries; this process gets completed within a few seconds.
When a user enters a search query into a search engine, it starts crawling billions of pages that exist around the world using web crawlers. These web crawlers are nothing but search engine bots or spiders, which scan every individual relatable page which has a result of your query.
The relevant pages are identified from the index, and then the algorithm is used to rank the relevant pages into the set of numbers. Consequently, algorithms can different for every search engine like the page that ranks high on DuckDuck Go for a search query won't rank in the Google for the same query.
After the result matches with a query and a relevant set of pages are ready which is classified by the algorithm, then the search engine navigates the web by downloading web pages and similar related links of such pages that have been made available.Here, let us take an example, so you will understand how Google search engine works. Suppose you are feeling hungry & want to order a burger or pizza from McDonald's. You know 24×7 discounts & offers available on these things so that you don't have to pay full. Next, you search for McDonald Coupons & offers.
Here Google will show you all websites, including voucherarena in its result, that has a coupon code for McDonald's. There are billions of pages having the same results as your query, but Google finds the more relevant ones, authorized, and around your location.
Search engines like Bing, DuckDuckGo, Wiki.com, Yandex are there, but Google is one who has rapidly rise and one of the most trusted search engines nowadays among all. With its upgrading algorithms, superior advertising platform, great user experience; Google has increased its market share to 87%, wow that a huge number – Still some say it's a perception, but no one serves up better search results than Google – that's a fact.
Two Ways of SEO White Hat and Black Hat
White Hat SEO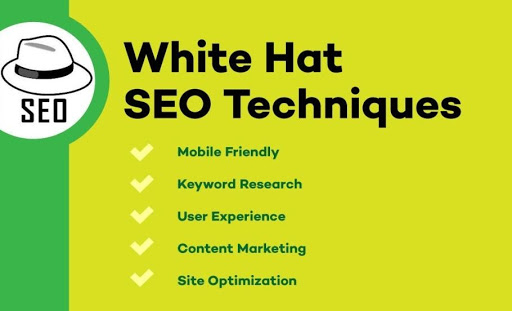 White has SEO Follows search engine guidelines & techniques that Google approves. It first focuses on users than the search engine. In White hat SEO, user requirement is a primary focus. If the user requirement is fulfilled then automatically the search engine will prefer you at the highest ranking. Strictly follow the search engine rules. It takes a long term approach to show results.
If you want to be an SEO expert then,
Protect your brand reputation
Increase your domain authority
Get more and more traffic over time.
To achieve all these, you'll need to stick to what is called "White hat" SEO tactics.
Black Hat SEO
Black Hat SEO is exactly opposite to the white hat SEO, which follows the wrong tactics and risky practices that are not honest. In this way, you can gain your rankings in a short period. Still, once the search engine gets known about shady practices then there will be opposite effects like a decrease in the ranking, spam score will be more, or lastly, your website will be blacklisted from search results altogether.
It violets search engine guidelines
It relies on manipulative tactics
It focuses on quick wins
At last, it's up to you, which side or strategy you choose among them, but in my opinion, you should always go for White Hat SEO, because it will be your lifetime investment.
On-Page SEO
On-Page SEO works as the practice of optimizing web pages to offer relevant data to users query also to rank higher in search engine and gain organic traffic towards the website or an individual web page.
Both the HTML source code & content of such a page are optimized in On-page SEO, which is opposite to off-page SEO which refers to external signals and other links. While working on On-Page strategy, you have to know about the main factors that play an important role in increasing rankings. Following are the factors,
Publishing high-quality content
Optimizing HTML tags such as page title, meta description & header
Relevant headlines, SEO Images, & other multimedia elements
Optimizing page content & content formatting
Page loading speed
Make a mobile-friendly website.
Internal & External links
User-friendly navigation, sitemaps, breadcrumbs
Yes, these factors are the same, but its measuring algorithm practices are always upgraded to match today's condition.
Off-Page SEO
Off-Page SEO is known as Off-Site SEO that makes a move outside of the website to improve the position of a website within search engine results pages (SERPs). Many people associate off-page SEO with link building, but it's not like that.
It's all about link building, submission, and related all signals you can give to search engines to convince them about the quality and usefulness of your website. Nothing but the promotion methods outside the boundaries of websites is performed.
Build trust & relationship with others
Be active on the web
Link building is the most important
Social media power
Guest posting, forum posting, Infographics submission is necessary
Incorporate relevant images & videos
Off-Site optimization involves ranking factors such as trustworthiness, search estimation, user requirements; increase the site's popularity, & authority.
Working on both strategies gives your website a high level of trustworthiness, authoritativeness, and expertise in search engines. The changes for On-page optimization are done within the website, and for Off-page, it's done outside the website.
Top Skills You Need to be Good at SEO
Many factors are needed to be good at SEO. As we know, it is a time-consuming trick that checks your patience. It's not like you submitted the post and within minutes you will get the results. It needs backing for every work that should be done.
Here one leader is needed who will set goals for the project, build & lead a team, perform research, get the job done, also looking for some other tasks that should be done side by side with the other work.
But for all these activities people should be trained or might know the general skills that are required to perform the above activities, also who can take responsibility for all these campaigns. Otherwise, it could fall apart.
List of the most important skills needed while performing SEO – 
Analysis
Research
Basic Programming & Technical Skills
Communication
Background in HTML
Motivation & Adaptability
Revolutionized Your SEO with These Easy Tips
Set a Google Search Console
Google search console is the control centre of your website, which plays an important role in many activities in one place. Here, you can check analytics, set goals, can manage different campaigns if you want, mapping performance of your website, troubleshooting problems, maintaining the website, etc. Google Search Console makes it much easier to optimize the website of having access to data and various tools.
Find Relevant Keyword
A relevant keyword is much necessary because it shows the intent of your content. Choosing the right keywords is always a challenge because these keywords decide in which direction your article will go. In this case, you can use Google analytics to know the number of clicks for the keyword, difficulty percentage, and other suggested keywords to make your content effective.
Add LSI Keywords in The Content
LSI keywords are Latent Semantic Indexing keywords that are commonly used together within a single topic & with the main keyword, which are related to each other. Placing these keywords in the article makes more chances of ranking the content in the main keyword as well as LSI keywords.
Use Keywords in the Right Places
Use the keyword properly in the content doesn't stuff the keyword it's not necessary. Maintain the ratio of the keywords as per the total content word count. 3 to 4% keyword should be there in opposite to the total content word count, more than 4% will consider as keyword stuffing which will degrade the content quality & ranking as well.
Create Evergreen Content
Building great content and keeping it up to date is one of the success keys of SEO. Content is always king in any situation. Websites content, articles, or blog should be grammar mistakes or spelling mistake-free because these things are inspected by every search engine properly. That is the only chance you can achieve a higher ranking.
Maximize User Engagement
Whether it's a website's structure, content, or blog – You have to think first about the users and then the search engine. If the structure or content of the website will be user friendly & relevant, then there are chances that the user's engagement in the website will be for more time. Once you get the user involved then more chances of conversions and make money.
Update Old Pages
Not daily but, once in a while try to update the old pages with changing content, Meta tags, and Meta description, looking for URL which is readable and easily accessible. Updating the old pages will add one point in your favour and will pull the search engine to optimize your website.
Speed Up Your Website
If the website's loading time is more, then correspondingly user will move to the other website, which is in the search result. It's a fact even when we are searching for something we are hurry to find such information so we usually open 3 to 4 links together which are in the search result.
So now think if your website is taking a lot of time to load the user eventually will move towards the other website, which has a less loading time than yours. There are many technical or non-technical things to sort out this speed up problem.
Mobile-Friendly Website
Everyone had a desktop-friendly site till the android phones came. Today you will get most of the traffic from mobile browsers as android technology made it simple. So, desktop as well mobile-friendly sites will give you more exposure, new users, and more conversions that you are seeking for. Be ready with a mobile-friendly website.
Get Links From Trusted Resources
When you are trying to get backlinks from the other resources, always check the security options, spam score, content that website displays, or even the last date when the search engine/bot visited the website.
In this way, you will get to know that if you can trust this site for article or guest post submission. If you submitted the content over the spammed website, then your website will also get spammed, so while exchanging the content for submissions choose wisely.
Read More